BUA SA BHÉALTRIAIL TEXTBOOK
Is lámhleabhar dhátheangach é Bua sa Bhéaltriail chun cabhrú le daltaí ullmhú do Bhéaltriail na hArdteistiméireachta. Chomh maith le foclóir cuimsitheach agus freagraí samplacha a thabhairt, is í aidhm an leabhair ná cabhrú le daltaí trí mhórfhadhb na béaltrialach a shárú: easpa ama do chleachtadh pearsanta sa seomra ranga, eagraíocht, agus strus lá na béaltrialach. Tugtar comhairle is leideanna praiticiúla maraon le roinn speisialta sa leabhar chun freagraí pearsanta na ndaltaí a scríobh is a choimeád le chéile don lá mór. Go n-éirí libh!
Bua sa Bhéaltriail is a bilingual handbook for Leaving Certificate students to assist them in preparing for their Oral Irish Exam. Providing comprehensive vocabulary and sample answers, it aims to help students with the three biggest difficulties of preparation for the oral exam: lack of class time for individual practice, organisation of material and exam-day stress. Practical tips and advice are given, accompanied by a special section for students to write their corrected answers and keep safely for the day of the exam. The best of luck!
Sraith Pictiúr / Picture Sequence
Extensive vocabulary and guidelines to help students to master the Sraith Pictiúr.
Ceisteanna Treoraithe / Guided Questions
Guided questions to help students to compose comprehensive, personal answers and conversations.
Boscaí Foclóra / Vocabulary Boxes
Integrated vocabulary boxes, specific to each topic, are included in each chapter, making it easy for students to find the terms they require.
Na Briathra / The Verbs
A dictionary of the most commonly used verbs and the rules which apply to them are included in the chapters on the Aimsir Chaite, the Aimsir Láithreach, the Aimsir Fháistineach and the Modh Coinníollach.
Nathanna Éagsúla / Extra Vocabulary and Phrases
Additional vocabulary and phrases, aimed at Higher Level students and those with a good command of the language, improve students' fluency and enrich their language.
Seanfhocail / Irish language proverbs
Seanfhocail appropriate to each topic are included.
Roinn na bhFreagraí / Answer Section
A special section at the back of the book allows students to write all of their corrected answers and to keep them in one place, taking the stress out of the exam day.
Audio files
Audio files available online for students and teachers.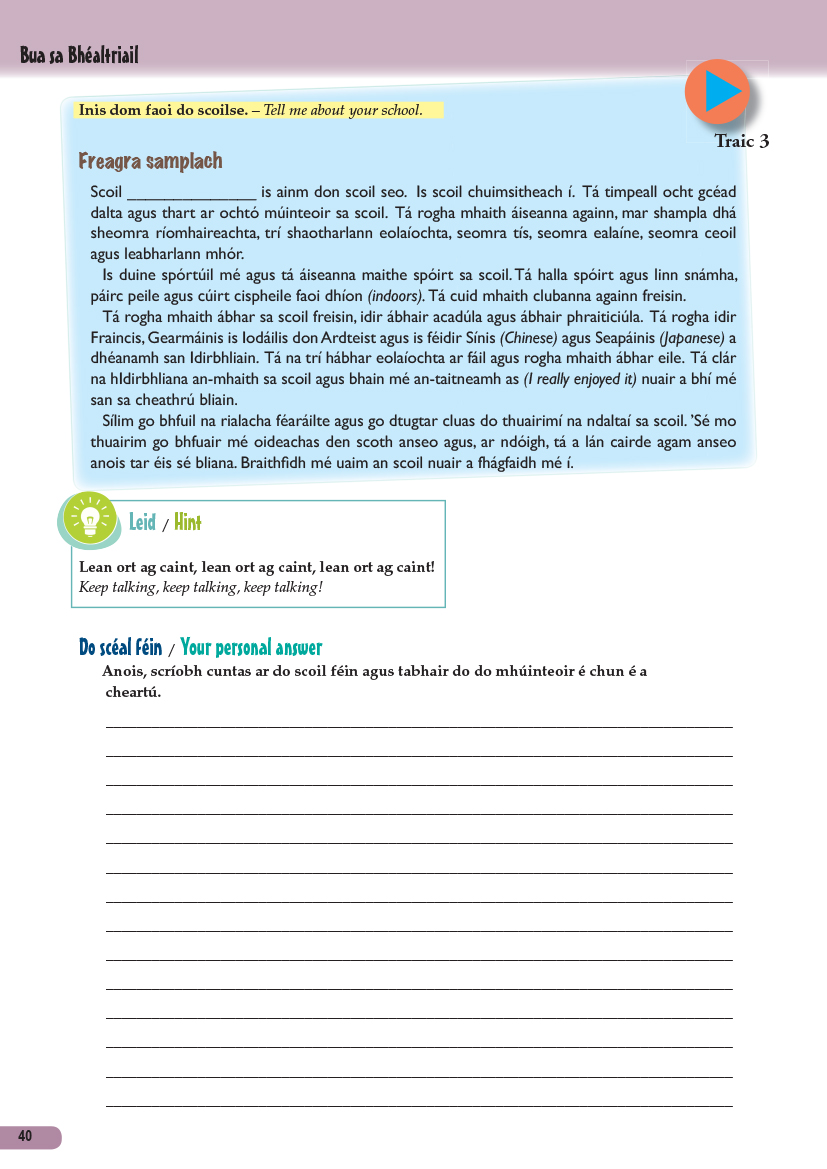 Other Titles You May Be Interested In