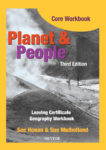 Planet & People 3rd Edition Core Workbook
Shop price
Planet & People Core Workbook, Leaving Certificate, Geography Provides additional exercises and activities on all topics covered in the Planet & People Core Book Third Edition, including questions on the new OS maps, aerial photos and graphical skills section of the Textbook.
Suitable for Higher and Ordinary Level students. Contains questions on updated local government and regional assemblies in Ireland. Contains a wide range of formal exam-style questions and extensive chapter revision questions.
Questions and activities aimed at ensuring students have covered all aspects of the three core units of the Leaving Certificate syllabus.
Assessment for Learning (AFL) techniques used throughout the workbook. Full colour with clear layout and design. Includes questions which require SRP-based answers. Contains useful graph pages to practise graphical skills.
You may also be interested in