Planet & People 3rd Ed. Core Workbook
PLANET AND PEOPLE CORE WORKBOOK  
Provides additional exercises and activities on all topics covered in the Planet & People Core Book Third Edition, including questions on the new OS maps, aerial photos and graphical skills section of the Textbook.
Suitable for Higher and Ordinary Level students.
Contains questions on updated local government and regional assemblies in Ireland.
Contains a wide range of formal exam-style questions and extensive chapter revision questions. Can be used for classwork or as homework.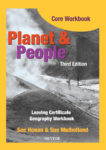 Other Titles You May Be Interested In