Planet & People 3rd Ed. Core Book
PLANET AND PEOPLE TEXTBOOK  
Human factors and physical factors are clearly indicated by two icons. These help, students to see at a glance which factor is being discussed in the text. These icons appear throughout the Regional Geography section.
Important changes to Ireland's regional government structure are explained. The three NEW regional assemblies – which replace the Border Midlands West (BMW) and Southern and Eastern (S&E) regions – are detailed.
Chapter focus on Northern and Western region, which contains many parts of the former Border Midlands West region. The BMW region no longer exists following changes to the regional assemblies in 2014.
Includes updated statistics on population, primary, secondary and tertiary activities.
New OSI maps showing new colour coding and symbols for height on OS maps. These new maps will be used in the Leaving Certificate Exam Geography from 2016 onwards.

 

Updated photos throughout the book New legend for OSI Discovery Series maps, showing updated symbols for physical features and NEW symbols, e.g. walking trails, windfarms.
New case studies inserted throughout the book. All case studies from previous editions of Planet & People are contained in the Digital Resources.
Important key terms are highlighted throughout. These terms are designed to focus teaching, learning and literacy in the classroom and to support students' self-directed learning at home. A glossary of these terms is provided in the Digital Resources. The font and colour used to highlight the key terms were chosen to help students with visual disabilities to read them with greater ease.
Focused and useful digital resources for the Teacher. These resources, created by the authors, are based on their own notes and research carried out when writing and revising the textbook. Includes Powerpoint presentations for each chapter, differentiated worksheets for use in mixed ability classes, templates created to aid revision of complicated topics, labelled and unlabeled diagrams from the textbook, case studies from past editions of Planet & People and sample answers to selected questions in the textbook.
Revision-focused digital resources for the Student. These resources include interactive quizzes, testing students' understanding of key concepts in an engaging way; weblinks for each chapter which link to animations, videos and sites that help to hold students' interest; and unlabelled diagrams helping students to revise for the Leaving Certificate Exam.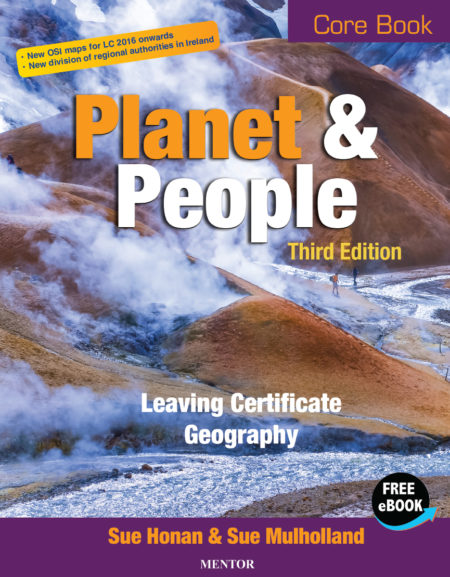 Other Titles You May Be Interested In