Díríonn Gaelsaol san Idirbhliain ar scileanna cuimsitheacha teanga a fhorbairt sna daltaí ar bhealach nua-aoiseach, gníomhach, taitneamhach a chothóidh dúil is misneach iontu an Ghaeilge a úsáid.
Béim Nua ar Labhairt na Gaeilge: deiseanna cainte fite fuaite tríd an leabhar maraon le boscaí foclóra, cluichí is rólghlacadh a thugann cabhair is spreagadh do dhaltaí an teanga a labhairt.
Ceachtanna Cluastuisceana bunaithe ar Thaithí Oibre, Obair Dheonach agus Dhúshlán Gaisce idir eile.
Léamhthuiscintí Nua-Scríofa bunaithe ar ábhair spéise dhéagóirí agus ábhar na hIdirbhliana le ceachtanna foclóra is gramadaí ceangailte leo.
Scríobh na Teanga: tuíteanna, téacsanna, ríomhphoist, scéalta, dánta.
Blúiríní de Stair na Gaeilge fite fuaite go nádúrtha tríd an leabhar.
Bun-Riachtanais Ghramadaí: Aimsirí na mBriathra, Réamhfhocail, An Chopail Is, An tAlt, Aidiachtaí, Inscne Ainmfhocal agus An Síneadh Fada.
Sraitheanna Pictiúr chun daltaí a chur ag caint is ag cumadh.
Prós, Filíocht, is Scannán 
Tionscnaimh is Taighde bunaithe ar chultúr is stair na Gaeilge agus an Ghaeilge i saol an lae inniu.
Gníomhartha Nua-Aoiseacha: dréimirí focal, tx caint, puzail agus liricí RAP idir eile, chun spraoi a bhaint as an teanga ar bhealach nua-aimseartha.
Tagairtí d'Acmhainní agus d'Imeachtaí ar Líne 
Leathanach Féin-Scrúdaithe ag deireadh gach caibidle.
Moltaí do Sheachtain na Gaeilge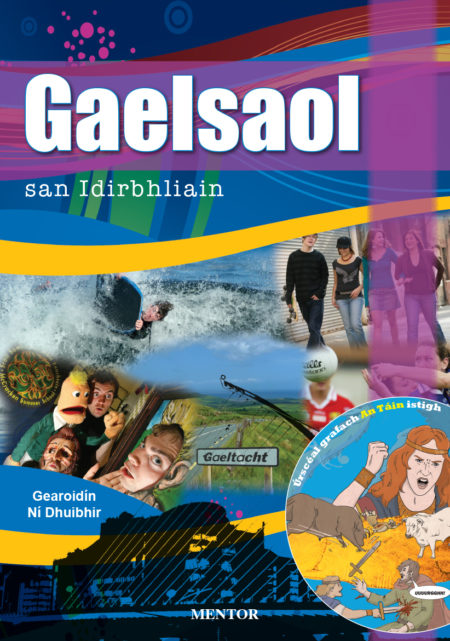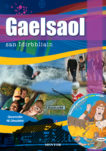 Audio files
Audio files available for students and teachers.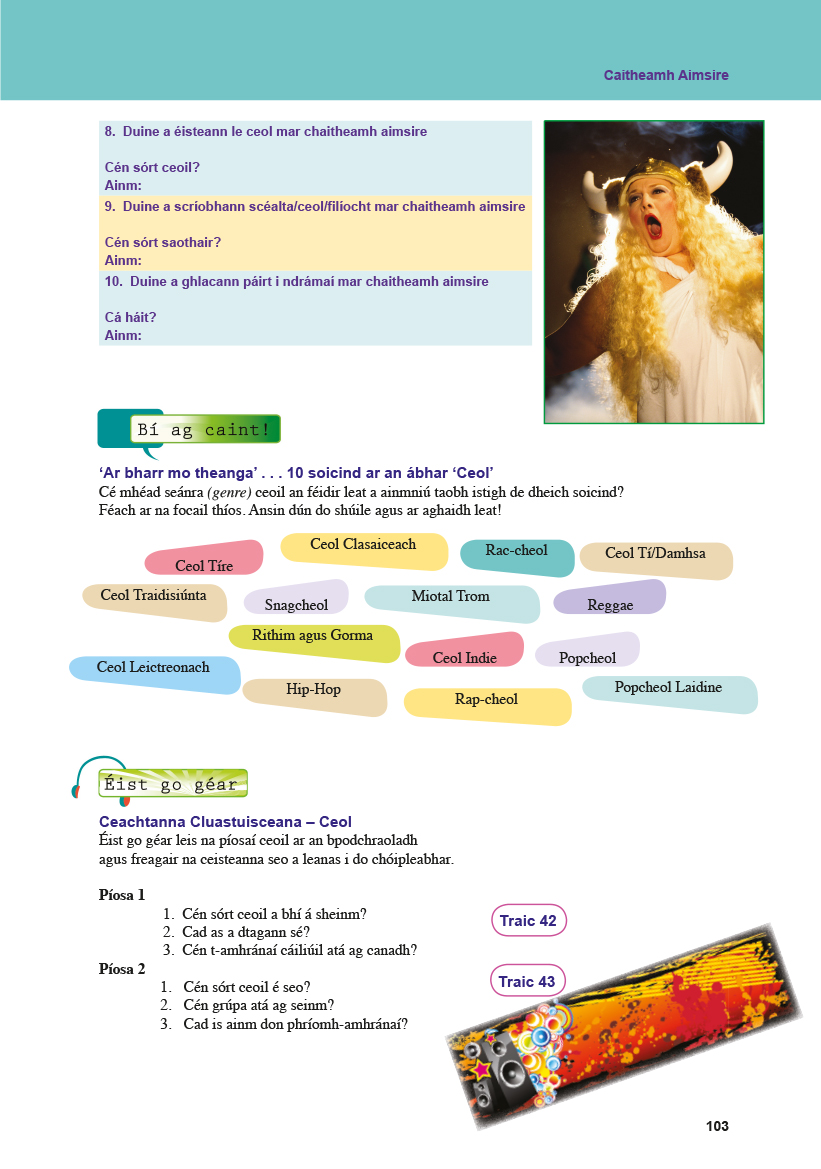 Solutions
Solutions to exercises available to teachers.