BUA GAN DUA TEXTBOOK
Is lámhleabhar dhátheangach é Bua gan Dua a chabhraíonn le daltaí ón 1ú bhliain go dtí an 3ú bliain an Ghaeilge a labhairt, taithneamh a bhaint as an teanga agus ullmhú do Bhéaltriail an Teastais Shóisearaigh. Maraon le foclóir cuimsitheach is freagraí samplacha, tá rogha mhór gníomhaíochtaí spreagúla sa leabhar a thugann deis do dhaltaí spraoi a bhaint as an teanga agus í á foghlaim acu.
Bua gan Dua is a bilingual handbook for First Year to Third Year students. It is designed to help students speak and enjoy the Irish language while preparing for their oral Irish exam in the Junior Certificate.  Instead of memorising long lists of vocabulary, students learn new vocabulary, phrases and skills through fun activities such as wordsearches, pictionary-style activities and even 'Mion is Fun' mini-debates! 
Bua gan Dua is designed to get students speaking Irish in a fun, relevant fashion.
Thematic chapters focus on developing skills, for example describing things, talking about music/sport/film, ordering food/concert tickets/holidays, etc.
In place of long lists of words, the necessary vocabulary is covered in enjoyable activities such as quizzes, crosswords, word searches, pictionary-style exercises, surveys, etc.
Fun 'Miondíospóireachtaí' are included to encourage students to speak and enjoy the language without being overly anxious about grammatical accuracy/command of vocabulary, thus building confidence.
Seanfhocail and Nathanna Breise are included to enrich the students' language and cater for differentiated learning.
References to online dictionary resources are included at regular intervals to encourage students to learn independently.
Formal written exercises assist teachers in monitoring and assessing students' work on an individual basis while encouraging oral pair-work and group-work in class.
Sample answers included in the book are available on the accompanying audio files as 'ní féidir aschur a bheith ann gan inchur'.
Each chapter ends in a formal Measúnú spoken task to help both students and teachers evaluate ongoing progress.
Lig do Scíth rounds off each chapter giving the students a chance to enjoy lateral-thinking and word puzzles, and suggesting video clips or TV programmes to watch.
All the necessary skills and material for the Junior Certificate Oral Irish Exam are covered throughout the book (as well as aural, reading and writing skills) with the final chapter focusing exclusively on the exam itself. Here the Sraith Pictiúr and Rólghlacadh cards plus sample questions are included.
Audio files
Audio files available online for students and teachers.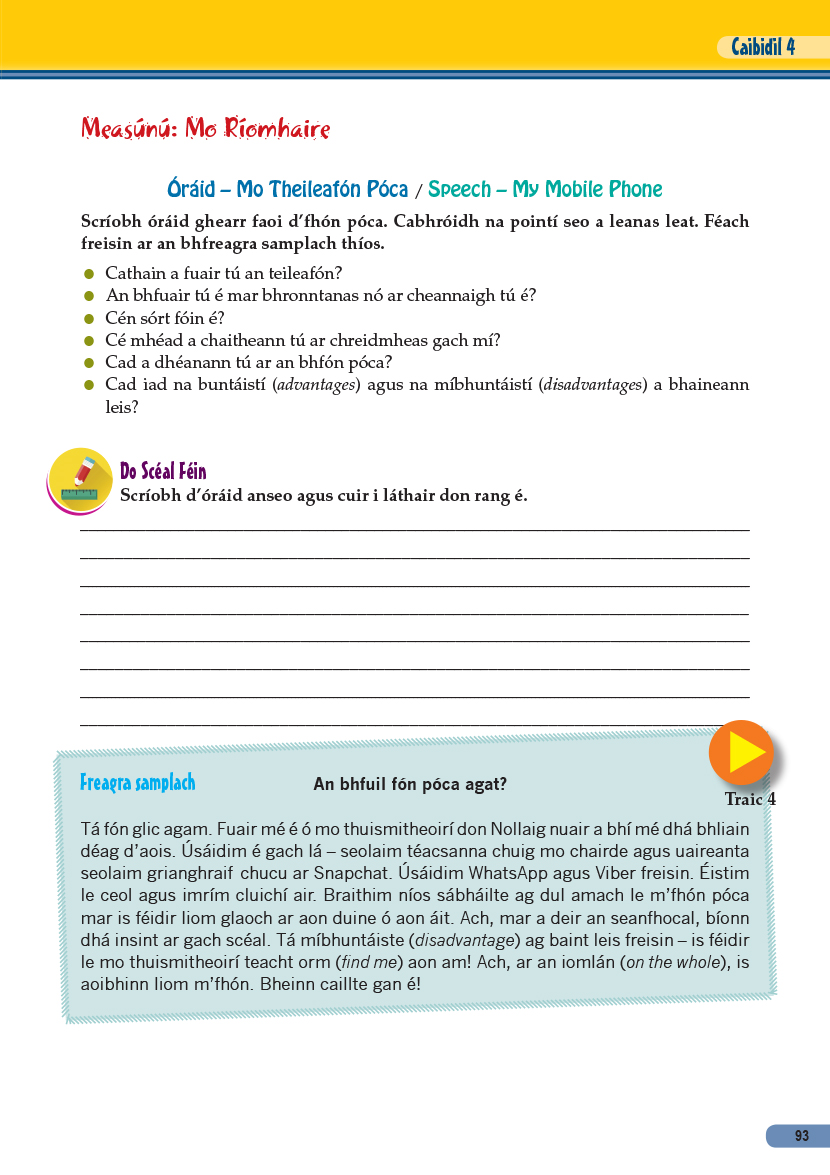 Other Titles You May Be Interested In