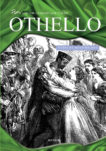 Othello
Shop price
Mentor Shakespeare Series
Part of our bestselling notes on Shakespearean plays. All additional text written by Hugh Holmes. Our edition of Othello – on the list of examinable texts for the Leaving Certificate in 2022 – includes the complete text of the play, fully annotated, as well as valuable commentaries after each scene and key quotation boxes and questions.  Concise scene summaries appear at the start of each scene. Suitable for Mixed Ability classes.
Click Find out more to read about suitable exam questions and revision quizzes within the text.
You may also be interested in